Andrew Muse Event
Submitted by MichaelaS on Fri, 03/11/2022 - 10:22am

Join us for an exciting party at Wasatch Brew Pub to celebrate the release of Andrew Muse's book, Life is Golden!
Saturday, April 23rd @ 12 pm.
Meet the famous traveling adventure dog, Kicker, and his human, Andrew, in this photography book all about the duo that inspires readers to fall in love, chase their dreams, and live a more passionate life.

In this adorable book all about the famous golden retriever that won over the Internet, Kicker and his human, Andrew, take readers on exciting adventures all across the world. Whether they're paragliding down snow-covered mountains, exploring vast ice caves, kite surfing some big ocean waves, rafting down the Colorado River, or repelling off super high mountain cliffs, this celebrated duo are journeying together. And they're sharing their story, for the first time all in one format, with the world. Now, never-before-seen photographs and untold stories are compiled into one book for fans, old and new, to enjoy page by page. Life is Golden champions bravery, wanderlust, and compassion by inspiring readers to fall in love, chase their dreams, and live a more passionate life.
About the Author:
Andrew Muse is a photographer, explorer, multi-sport athlete, and adventurer who consistently generates compelling and high production value content with his adventure dog, Kicker, by his side. After spending more than ten years in the action sports and travel industry, has had the opportunity to partner with top clients including Travel Channel, GoPro, People Magazine, Google, and Land Rover. Kicker - aptly named the Ultimate Mountain Dog by Outside TV - and Andrew starred in a 2019 Super Bowl commercial for Mountain America Credit Union. Andrew's self-produced series, Tiny Home Adventure, is gearing up for Season Three after Season Two received over 1 million views. Andrew lives in Park City, Utah.
Event date:
Saturday, April 23, 2022 - 12:00pm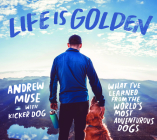 $17.99

ISBN: 9781423660279
Availability: Usually Ships in 1-5 Days
Published: Gibbs Smith - April 19th, 2022
---